The Hague, 13 December 2017
GMACCC Chairman Major General Muniruzzaman (Ret.) of Bangladesh highlighted security concerns of the possible use of geoengineering as a panel member at the Planetary Security Conference in The Hague on 13 December. The workshop session, "Climate Geoengineering and its Potential Impacts on Security and Governance," focused on objectives including:
Evaluating challenges in governing climate geoengineering and the implications for international security, including migration flows, land grabs, threats to livelihoods, human rights and political stability.

Sharing thoughts from experts in a range of fields speak to governance, military and security concerns as well as the implications of geoengineering for socio-economic development.
Concerns included the role of non-state actors possessing and using such technology to influence weather patterns that could lead to "weather wars." The question of who would govern any use of geo-technology was at the front of discussions, with note that military units would most likely implement measures if climate situations became extremely dire, leading to possible militarisation of the structures.
The panel called for greater debate on the general issue, because identified risks are great, and decisions should be explored at great depth. Potential "shock waves" could occur if use of the technology stopped abruptly, thus increasing climate dangers. Global holds on all deployment of such technology was agreed upon during the session as a wise step for the present.
Read the brief: Climate Geo-engineering: Uncertainties and Implications
By ANM Muniruzzaman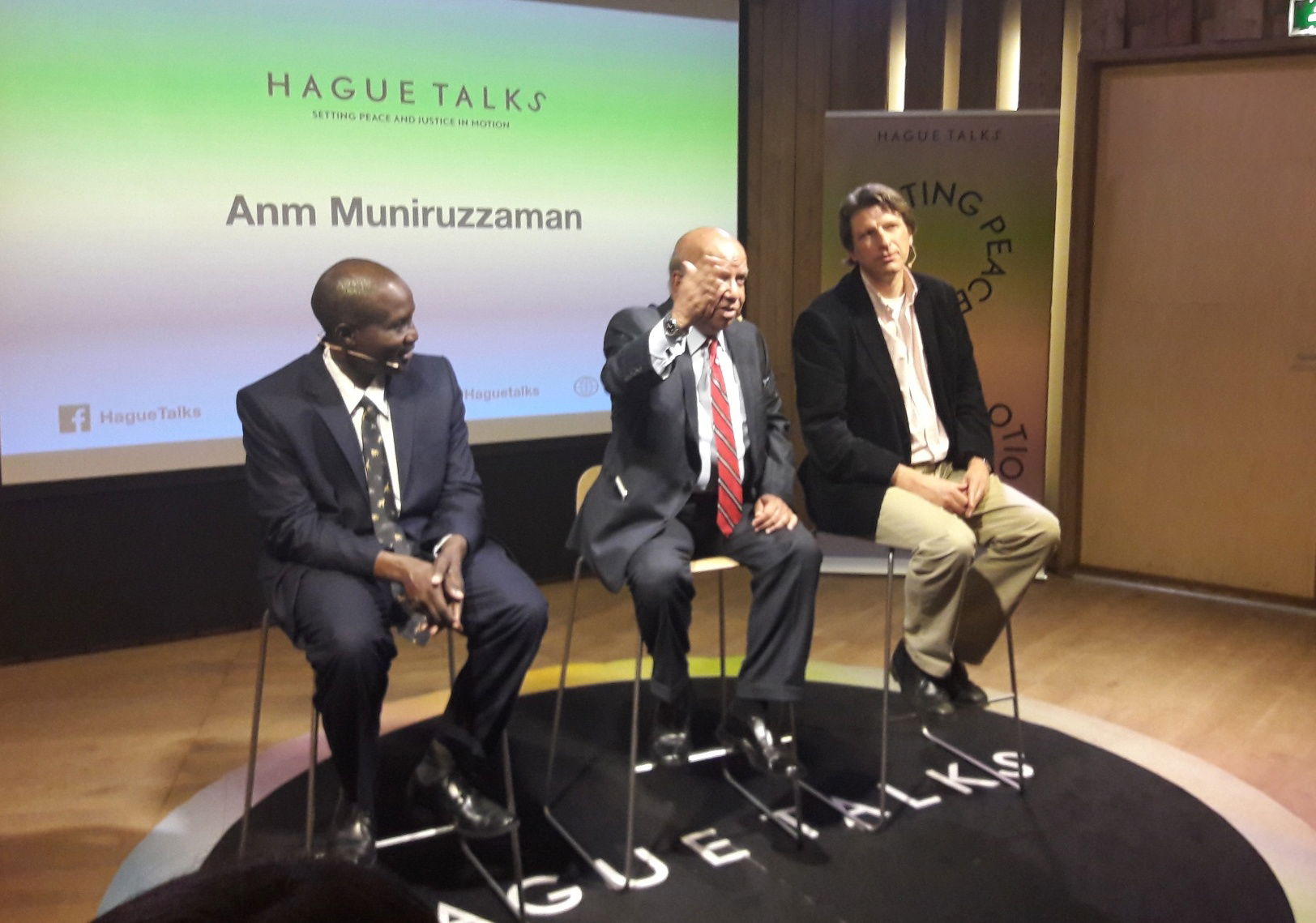 Hague Talks Presentation
General Muniruzzaman (centre in photo) also was a featured speaker on the same evening at The Hague Talks session that addressed "How is Climate Change Affecting Global Security?"
See more from The Hague Talks session (with video) at: http://www.haguetalks.com/speaker/muniruzzaman/
---